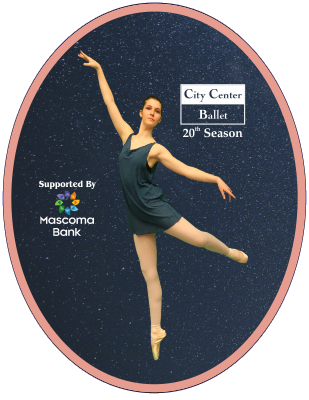 City Center Ballet celebrates 20 years of professional dance with a stunning evening of classical and contemporary repertoire. Experience the precision and beauty of classical ballet with Harald Lander's Etude, staged by Jennifer Henderson. Then shatter expectations with three world-premiere contemporary dances created by emerging New York City choreographers. This versatile and wide-ranging performance goes beyond tradition to reveal the immense power of dance and the ongoing artistic legacy of City Center Ballet. An on-stage reception follows the Saturday evening performance—RSVP required: click below to make your reservation. While this show is suitable for all ages, ages 8+ will be most engaged.
Three World Premieres by New York City Choreographers
Alexander Brady • Jere Hunt • Michelle Manzanales
and
Lander's Etudes
Staged by Jennifer Henderson
Lebanon Opera House
Friday, May 3 @ 7:30 pm
Saturday, May 4 @ 7:30 pm
Reserved Seating - Advance Pricing
Adults: $20 • Students (18 & under): $12.50
$5 more on the day of the show

Tickets: Lebanon Opera House Box Office at 603-448-0400 or online at:


Estimated run time for each performance is 1 hr.
Page Last Updated: 03/26/19